With the holiday season often comes the need to destress. This year, give yourself or a loved one the gift of relaxation and meditation, by signing up for classes with one of the best yoga studios in the Brockton area. To make it easy on you, Chrysler Jeep Dodge Ram, came up with our own best of Brockton list.
The following local yoga studios listed in alphabetical order feature masterful instruction, spacious facilities, and a mixture of unique yoga methods. Keep reading to learn about the Brockton area's top yoga providers and click on the link to the business you're interested in to find out class information.
Bliss Through Yoga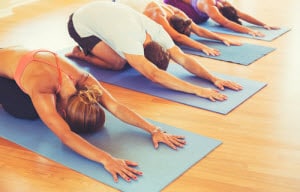 While many people conjure up the same image when they think of yoga, there are actually many different styles that vary in intensity and purpose. Bliss Through Yoga is a yoga studio in East Bridgewater, MA that specializes in a form of therapeutic yoga called Svaroopa.
Head yogi Janice O'Brien brings over 40 years of yoga expertise and a unique appreciation for Svaroopa. She was initially drawn to it for its fun-to-say name, but quickly became hooked once she saw how effective it is in opening tension-laden areas and releasing pain and stress.
Janice offers both group and private Svaroopa classes. She also offers healing sessions through the Japanese stress reduction and relaxation technique known as Reiki Energy Healing.
Easton Yoga Center
Easton Yoga Center in North Easton, MA offers an inclusive, creative, and empowering space for yoga students to learn and grow not only in their yoga journeys but in their life journeys as well. As a caring community of yoga lovers with expert instructors teaching each style, Hatha, Flow, Yin, and beginner, Easton Yoga Center aims to let their students determine their yoga destinies and levels of involvement while supporting them through thick and thin.
In addition to an array of indoor and outdoor yoga classes, the Easton Yoga Center community also enjoys learning through educational workshops on health topics and strengthening as a group during special outings like occasional nature hikes.  
Open Doors
They say that when one door closes, another one opens. Open Doors doubles as a gift and bookstore and learning and healing center that aims to harness the power of new opportunity and bundle many forms of new pathways into one.
Participating in Hatha style yoga is just one way to open a new door and there is an open door for every person seeking relaxation, engagement, and transformation at this Braintree, MA shop-studio hybrid. From belly dancing to massage therapy and even life counselling, the variety of classes and sessions offered by Open Doors are led by wellness professionals who bring extensive experience in treating and healing the mind, body, and spirit.
Get in Touch with One of Brockton's Best Yoga Providers
Add flexibility and strength to your daily routine by connecting with one of the best yoga studios in the Brockton area today. You'll be glad you did!