Chrysler 300 Dashboard Light Guide Brockton MA

The Chrysler 300 is one of the most reliable sedans on the market today. One of the reasons its so reliable is its ability to monitor itself and let you know when something is going on using its many dashboard lights.
With so many lights to keep track of, though, it can be hard to remember what every light means. That's why we at Chrysler Jeep Dodge Ram 24 have put together this helpful dashboard light guide. Chrysler 300 drivers in Brockton, Randolph and Stoughton should read ahead to learn more!
Indicator Lights vs Warning Lights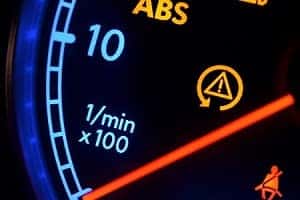 Before we dive in to what each individual light means on the dashboard of the 2018 Chrysler 300, let's distinguish the difference between indicator lights and warning lights. Indicator lights simply let you know when a certain system in your vehicle is in use. Warning lights, on the other hand, let you know when something is wrong.
Chrysler 300 Indicator Lights
The Chrysler 300 has several indicator lights that glow yellow, blue, or white when the following system are in use:
Cruise Control – When you switch into cruise control, a light depicting a mileage gauge and an arrow will light up.
Front Airbag Light – This light, which features a person sitting in a seat with a circular bubble in front of them, will come on when the front passenger airbag is engaged.
High Beams Light – If you have your high beams on, a light on your dashboard will come on shaped like a half circle with vertical lights coming out of it.

Chrysler 300 Warning Lights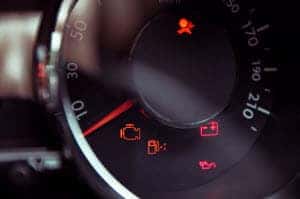 In addition to the indicator lights above, the Chrysler 300's dashboard also includes the following red warning lights:
Battery Light – If your battery is dead, dying, or experiencing a problem, a light depicting a rectangular battery will light up.
Brake Light – If a light saying BRAKE in all capital letters lights up, it means that your parking brake is on or you braking system is not functioning properly and you should have your brakes checked by a professional.
Check Engine Light – Your engine can experience many different problems. So, when a light showing an engine lights up, you need to have a professional look at it.
Engine Coolant Light – Specifically, when your engine coolant is in turmoil, a light showing a thermometer with wavy lines will come up on the dashboard.
Gas Light – Being low on fuel will cause a light shaped like a gas pump to light up.
Oil Light – If your oil levels are low or there's another problem going on relating to your engine oil, a light shaped like an oil can will light up.
Tire Pressure Monitoring System (TPMS) Light – If this light shaped like an exclamation point in a circle and parenthesis comes up, it means that at least one of your tires is low on air.
Still Have Questions?
We at Chrysler Jeep Dodge Ram 24 hope that this dashboard light guide to the Chrysler 300 has given you the information to figure out what each light that comes up means. However, if you still have questions or concerns, don't hesitate to give us a call! Drivers in Brockton, Randolph and Stoughton are also welcome to stop by anytime on their way through town.