Dodge Dart Dashboard Light Guide
Getting all of the tech features and settings straight during the first drives in your brand-new ride often comes with a learning curve. One aspect of your Dodge Dart's interior that you don't want to misinterpret is the dashboard lights. Because these little light-up symbols can signal anything from normal functions to serious errors under the hood, it's vital for drivers to be cognizant of their meanings in order to catch an issue before the real consequences set in.Never dodge an unfamiliar light symbol on your Dart's dash again. Brockton, Randolph, and Stoughton area Dart drivers can check out our Dodge Dart Dashboard light guide for more information.

Red Warning Lights
First we'll start with the serious-issue lights in attention-grabbing red. Many of these symbols indicate critical vehicle concerns that if left unaddressed could make for dangerous driving conditions.
Seat belt reminder: This red light shows a passenger wearing a seat belt buckled into place to remind you to buckle up too when you start your Dart.
Brake warning: The brake warning light indicates the use of the parking hand brake or low brake fluid in the braking system. If the parking brake is disengaged and brake fluid levels are full, this light could indicate an error with the vehicle's anti-lock braking system.
Charging system: This standard symbol that's a battery with + and – terminals is well-known because it often warns of trouble under the hood. If the charging system warning light illuminates, check the alternator and battery. Your ride may require a jump-start to get going again.
Engine temperature: This crimson symbol set of a thermometer and wavy lines indicates an overheated engine environment. Turn the engine off as soon as it's safe to do so and call for assistance.
Electric Throttle Control: A lightning bolt in parentheses indicates an issue with the Electric Throttle Control system in your vehicle. If this light is flashing vs. steady, immediate attention is required.
Amber Warning Lights
Amber warning lights generally indicate vehicle issues that may not require urgent maintenance but still need to be addressed in a timely manner.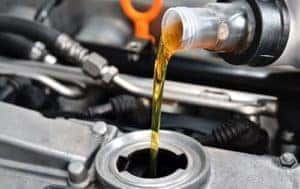 Electric Stability Control (ESC): The ESC light, depicted by a car symbol with wavy tread marks, indicates an issue with the ESC system in your Dodge Dart. If this light doesn't disappear after several run cycles, bring in your vehicle for service. This same symbol will appear in conjunction with the word OFF if the traction mode is set to Track or Sport or is turned off.
Low fuel: When your Dodge Dart is getting low on gas, you may see an amber gas pump symbol light up on your dash. Refuel as soon as this light indicates that your car is running on just 3 gallons at the bottom of the tank.
Tire pressure monitor: A yellow exclamation point in parentheses warns that one or more of your tires lacks the recommended tire pressure. Look to the vehicle information display (located between the tachometer and speedometer) for further details on which tire (or tires) is at risk and adjust the pressure as soon as you can.
Malfunction Indicator: The Malfunction Indicator is represented by the outline of an engine and indicates the performance of the engine and automatic transmission control systems. This light can come on steady due to a loose fuel cap or poor fuel quality. If it's flashing, be sure to seek out immediate help.
Checking for Operation
If you suspect that one of your dashboard lights is burnt out, the easiest way to tell is to observe if it briefly illuminates for a few seconds at startup. The following lights will come on for a multi-second flicker on ignition to show they're in good working order:
Seat belt reminder
Brake and ABS
Air bag
Electric Throttle Control
Malfunction Indicator
Electric Stability Control
Take Heed of Your Dash
If you encounter any of the these lights in your 2016 Dodge Dart, Chrysler Jeep Dodge Ram 24's service team can help you with the necessary service and repair. To take the best care of your Dart, you'll need to take heed of your dash. Schedule an appointment with us online at the first sight of a warning light to ensure that you stay safe traveling around Brockton, Randolph, and beyond!