Driver's Guide to Automotive Maintenance
Routine automotive maintenance is arguably the single most important thing that you can do for your car. It may seem intimidating to look under the hood of cars these days, but you really don't need any complex knowledge to take care of a few simple tasks yourself. Adding some regular checkups and taking care of issues that do arise in a timely fashion go a long way toward extending the life of your vehicle and ensuring a safe ride.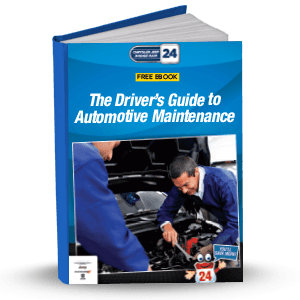 In our FREE eBook, Driver's Guide to Automotive Maintenance, our team at Chrysler Jeep Dodge Ram 24 goes
over crucial, yet simple maintenance tasks you can complete to stay up to date with automotive maintenance such as the following:
Importance of reading your owner's manual
Visual vehicle checks
Changing your engine oil
Checking under the hood
And more!
In addition to the knowledge you'll gain regarding vehicle maintenance, you'll also receive special coupons towards your next brake service or oil change at our dealership.
If you're ready to learn more about automotive maintenance for your vehicle, simply fill out the form on this page to download your FREE copy today and get started!