How Long Do Tires Last?


Have you noticed a bumpier ride lately, or perhaps a louder ride? What you may be feeling or hearing are some of the telltale signs that your tires are nearing the end of their time with your car. Just like any native of Brockton, Randolph, or Stoughton can tell when your winter boots aren't ready for the coming weather, you'll know when your vehicle needs new tires.
Knowing when you need the next set of tires for your car is all well and good, but wouldn't it be better to be more prepared?  It's easier to budget for new tires if you know when to expect to buy new ones.  How long do new tires last, though?
Tire Life Estimates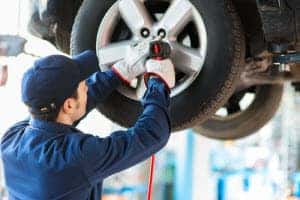 While there is no hard and fast rule for how long your tires will last, as many factors can affect their longevity, there are some safe estimates. One estimate you can consider in your planning is that most new tires last for about three to four years. This is assuming that your car is subjected to the average number of miles per year and the driving conditions are nearly similar at all times.
However, there is a better estimation for tire life and that is mileage. Typically, your vehicle is going to be outfitted with some all-season tires and the average life span for them is between 50,000 and 70,000 miles. Although that may sound like a high number, this number is affected by road conditions, driving habits, and the relative health of the car; still, at least there is a jumping off point to help drivers ascertain when to expect a tire bill.
Do I Need New Tires?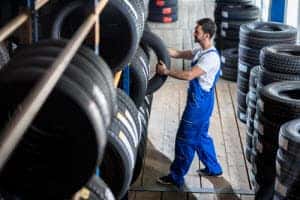 Since the mileage on the life of tires is often presented as a range, most drivers question which side of the range to pay more attention to. Suppose you're rapidly approaching the 50,000-mile mark but you're not sure if your tires need to be replaced or not. There are some simple ways to tell if your tires should set a date with your local service center.
First, insert a penny in the treads upside down; if you can see the entirety of Abraham Lincoln's head, it's time to get new tires as the tread has become too worn down. Another way is to listen when you're driving, as older, worn tires can sound differently on the road. You may hear a whomp sound or a sort of scratchy sound that would warrant taking a look at the tires—not only at the outside wall of the tires, but also the inside to ensure no threads are showing. The threads will look like squiggly white lines and may feel rather rough to the touch.
Service Your Tires with Us
With tire conditions, it's better safe than sorry, so if you think your tires are lacking, get them checked out by one of the professionals in our service department. They'll be able to gauge whether or not you need to think about replacements now or if you still have some time. Dull and worn tires can lead to less stable road conditions, so don't wait if you're told that new tires are in order.
At Chrysler Jeep Dodge Ram 24, you can make an appointment to replace your old tires with some news ones with our easy and convenient online scheduling tool. Our team will efficiently and quickly take care of your vehicle's old tires and have you out the door to return to work in Brockton, Stoughton, or Randolph. Schedule an appointment with us today!