Jeep Compass Maintenance Schedule

One of the most impressive vehicles in Jeep's current lineup is the new Jeep Compass. This incredible crossover can offer a luxurious interior to keep you comfortable when cruising the streets of Brockton, Randolph, and Stoughton, yet it also provides the rugged off-roading capability you'd expect from a new Jeep.
The best way to make sure your Compass continues to perform for years to come is to keep up with all the necessary required maintenance. Check out our Jeep Compass maintenance schedule, and learn what it takes to keep yours in shape.
6,000-Mile Service
After 6,000 miles or about six months, it's time for your first service. Aside from your typical safety inspection, your primary concern here is getting your Jeep Compass' oil and oil filter changed. A tire rotation is also a good idea, but it's fine most of the time to wait another six months. Just keep in mind that you need to repeat this service, along with every subsequent service, in regular intervals.
12,000-Mile Service
When a year has passed, you'll have a bit more to do on your list. Make sure you get your brakes inspected. While your brake pads should still have some life left in them, they can be seriously worn depending on your driving habits and typical payload capacity. Don't forget to have your cabin air filter changed as well, to ensure you're getting quality air inside.
24,000-Mile Service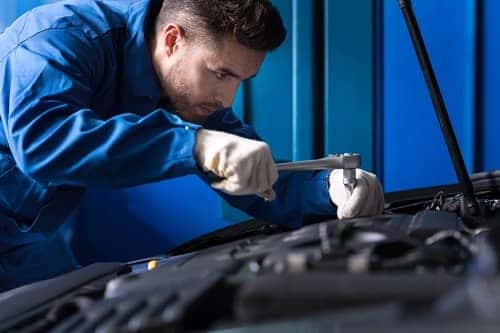 By now, you've driven the distance it would take to drive around the entire planet. After all that driving, it may be a good idea to change the tires on your Jeep Compass entirely. They could potentially still last you a bit longer, but it's not uncommon for the tread to be worn down too far after two years. Your brake pads will probably also need to be changed at this point. Just to be safe, it's not a bad idea to have your spark plugs replaced as well.
48,000-Mile Service
You're going to be seeing a lot more replacements at your 48,000-mile service. Both your drive belt and your timing belt should be replaced here. If you have an automatic transmission in your Compass, it will probably need some service to make sure it's still performing the way it should. Don't forget to have your engine coolant flushed and replaced, and go ahead and have your hoses inspected as well. They shouldn't be leaking yet, but it's always better to catch it early.
96,000-Mile Service
For this service, you'll see even more replacements. If you haven't replaced your engine coolant hose yet, now is the time. You also need to make sure you're getting your transmission fluid and differential fluid flushed and replaced. In some cases, you'll also need your shock absorbers replaced, especially if you've been taking advantage of all the Compass' off-roading capabilities.
Schedule Jeep Compass Service
You know what it takes to keep your ride in shape, thanks to our Jeep Compass maintenance schedule, but you still need a place to get the service done. For quality service you can count on in the Brockton, Stoughton, and Randolph areas, the service center at Chrysler Jeep Dodge Ram 24 is happy to help. Schedule your service appointment today!