Jeep Renegade Dimensions
When you're looking for a new crossover to take through the streets of Brockton, Randolph, and Stoughton, you have a lot of options to choose from. Today, crossovers are rising in popularity due to their efficient powertrains, advanced technology, and sleek designs. With so many options to choose from, where do drivers start?
Well, one of the best crossovers on the market today is the Jeep Renegade. With its off-roading capabilities, cutting-edge performance, and comfortable cabin, the Renegade is ideal for drivers craving a thrilling ride. However, to understand the full capabilities of this Jeep model, every driver should learn about its dimensions.
Learn more about the Jeep Renegade dimensions and discover whether or not this crossover measures up to your standards. If you have any questions, contact us at Chrysler Jeep Dodge Ram 24!
Jeep Renegade Interior Dimensions
Crossovers are known for their interior space, so it's important to know just how much you're getting out of the Renegade before you commit. A lot of Jeep drivers like to go on off-road adventures, and those adventures often call for extra equipment. Fortunately, the Renegade can carry up to 50.8 cubic feet of cargo behind the front-row seats.
The inside is quite comfortable as well, offering 41.1 inches of headroom and 41.2 inches of legroom in the front. If you plan on taking some rear passengers along for the ride, they can enjoy plenty of room as well. In the back, they'll have 40.5 inches of headroom and 35.1 inches of legroom.
Jeep Renegade Exterior Dimensions
There's certainly plenty of room on the inside, but the exterior dimensions of the Jeep Renegade tell a story of a sleek and efficient design as well. The Renegade is 166.6 inches long and 79.6 inches wide. With a turning diameter of 36.3 feet, you know this Jeep is making the most of its size with enhanced maneuverability.
The efficiency doesn't end with the turning diameter, however, as the doors open to an impressive 65 degrees, making it easy for everyone to get in and out. You'll also find that the Renegade is incredibly balanced, with 57 percent of its weight in the back and 43 percent of it in the front when equipped with an automatic transmission.
Trail Rated® Tough Dimensions
One of the best ways to experience the Renegade is with the Trailhawk model. This model has been put through the ringer with rigorous off-road tests, which it passed with flying colors. With the Renegade Trailhawk, you'll find unique dimensions that contribute to incredible off-road performance and towing capabilities that can conquer even the toughest challenges.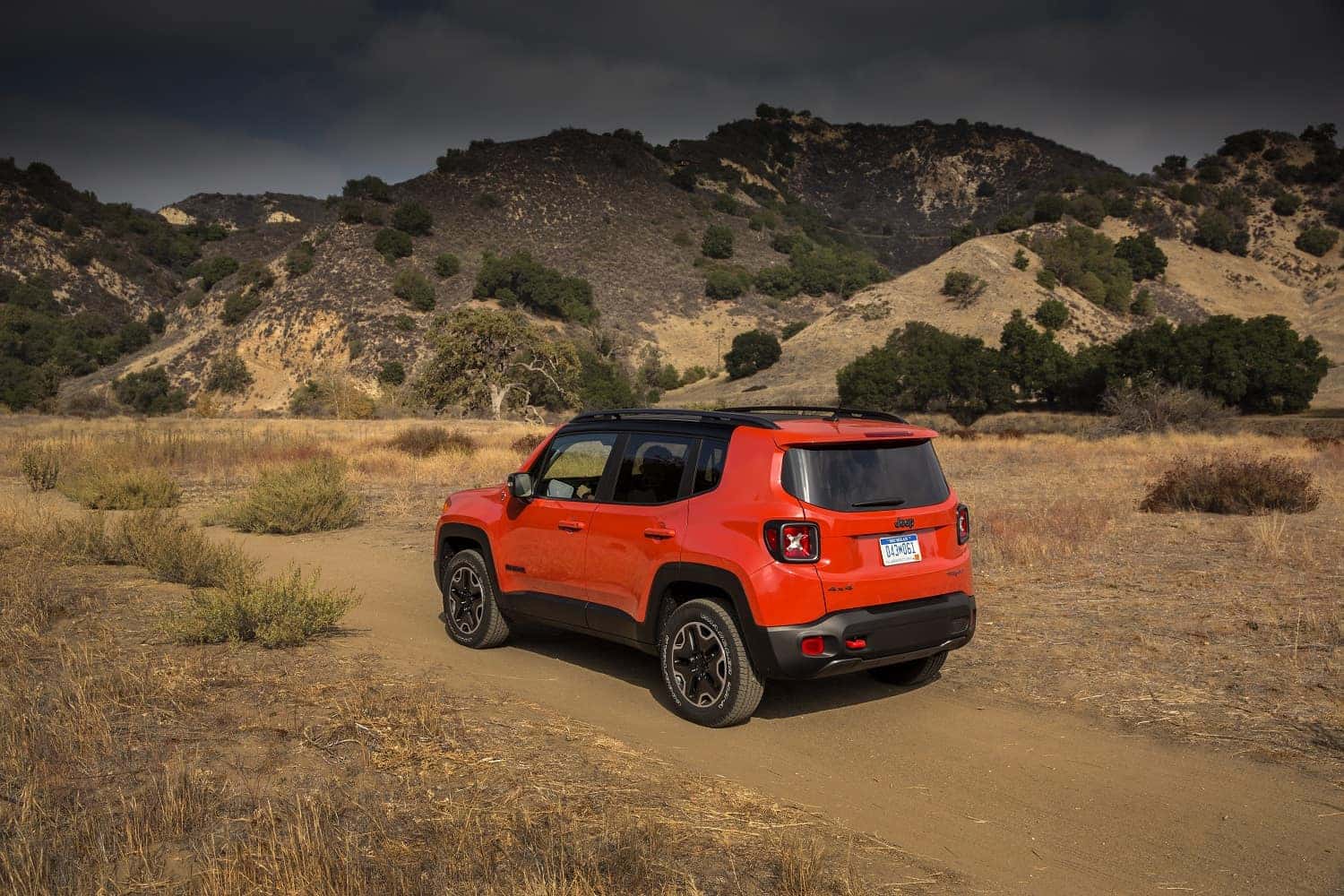 The Jeep Renegade offers 8.7 inches of ground clearance with an approach angle of 30.5 degrees, a breakover angle of 25.7 degrees, and a departure angle of 34.3 degrees. You can navigate through 19 inches of water, too, for more off-roading adventures. Plus, the front suspension offers 6.2 inches of travel and the rear suspension provides up to 7.5 inches of travel.
When equipped with the 2.4L Tigershark® MultiAir® 2 engine and a 9-speed automatic transmission, the Jeep Renegade can tow up to 2,000 pounds. With this kind of towing power, you'll be able to bring along your favorite belongings on your next trip, whether it's a four-wheeler or a small boat.
Experience the Jeep Renegade Dimensions in Person
While this overview of the Jeep Renegade's dimensions gives you a good idea of what this crossover is like, the best way to learn more is to experience it in person. If you live in the Brockton, Randolph, and Stoughton areas, you can do exactly that at Chrysler Jeep Dodge Ram 24. Get in touch with us to schedule your test drive today!