Ram 1500 Dashboard Light Guide

Ram 1500 drivers in Brockton, Randolph, Stoughton, and beyond might be wondering what the many lights on their vehicle's dashboard mean. Well, you're in the right place! We at Chrysler Jeep Dodge Ram 24 have put together this detailed dashboard light guide to help you decode all the important lights that may come up on your dashboard.
Read ahead to learn more about the Ram 1500's many indicator and warning dashboard lights!

Ram 1500 Indicator Lights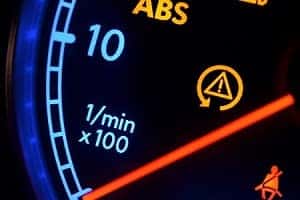 Your Ram 1500 is equipped with a number of indicator lights, which serve the purpose of letting you know when a system or feature is on and/or in use. Some indicator lights you'll see include:
Cruise Control Light – When your Ram 1500 has cruise control engaged, you'll see a light shaped like a speedometer with an arrow light up.
Electronic Stability Control Light – The Ram 1500 is equipped with Electronic Stability Control and, when in use, a light depicting a car making curvy tire marks will come up.
Fog Lights Light – If you turn your fog lights on, you'll know because you'll see a light shaped like a half circle with horizontal lines coming out of it that are crossed with a vertical line.
Headlights Light – This light looks similar to the Fog Lights indicator light but it doesn't have the vertical line going through it.
Hill Descent Control Light – If you're using the Hill Descent Control feature, your dashboard will light up a light shaped like a car going down a hill.
Ram 1500 Warning Lights
In addition to its many indicator lights, the Ram 1500 is also equipped with several warning symbols, which indicate a problem going on with your vehicle. This pickup truck sports the following warning lights:
Air Bag Light – This warning light shaped like a sitting person with a circle in front of them comes up briefly when you first turn the vehicle on. If it stays on or comes on while you're driving, though, there's a problem with your airbags.
Battery Charge Light – A battery-shaped light will come up on your dashboard if your battery isn't charged or charging properly.
Brake Warning – This light, which depicts a circle with an exclamation point in it, comes up when your parking brake is left on or your braking system is experiencing a problem.
Electronic Throttle Control (ETC) Light – This feature, which is represented by a lightning bolt on your dashboard, will flash this light if it's not working the way it should.
Engine Temperature Light – If your engine is overheating or experiencing another emergent issue, a light will come up shaped like an engine.
Low Fuel Light – Your Ram 1500 will let you know when you're low on gas by lighting up the gas-pump-shaped low fuel light.
Oil Pressure Light – This light, which is shaped like an oil lamp, will let you know if your oil pressure is too low or too high.
Seat Belt Reminder Light – If someone isn't buckled up, a light shaped like a person wearing a seatbelt will light up.
Need Some Additional Help?
Drivers in Brockton, Randolph, and Stoughton should give us a call at Chrysler Jeep Dodge Ram 24 today with any questions they may have about their Ram 1500's dashboard lights!