Ram 1500 Classic vs Chevy Silverado

It's well known that two of the most popular trucks in the Brockton, Randolph, and Stoughton area are the Ram 1500 Classic and the Chevrolet Silverado. Both models have made a name for themselves over the years due to their reliability, capability, and style. But, if you're in the market for a new pickup, which one will best meet your needs?
In this Ram 1500 Classic vs. Chevy Silverado comparison, Chrysler Jeep Dodge Ram 24 has put these famed models to the test. Keep reading below to see how they stack up against each other and find out which pickup is right for you.
2019 Ram 1500 Classic vs 2019 Chevrolet Silverado – Performance & Fuel Economy
Trucks equal performance and while these models stand out among the crowd, there are some differences to take note of when comparing the two.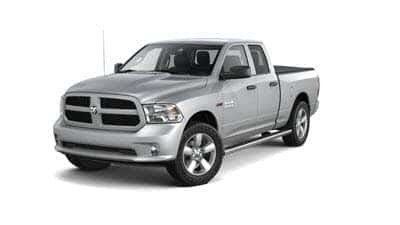 Standardly in the Ram 1500, you'll find the 5.7-liter HEMI® V8 engine. This incredible powertrain gives you up to 395 horsepower and 410 lb-ft of torque. This is paired with an 8-speed automatic transmission that offers optimal acceleration. Learn more with our 2019 Ram 1500 Classic review!
Along with excellent power and smooth driving, you'll also receive a solid EPA-estimated fuel economy of 15 MPG in the city and 22 MPG on the highway.*
On the other hand, the Chevy Silverado is equipped with the 5.3L V8 engine. But because this engine is not a HEMI®, you're going to get less power. It supplies 355 horsepower and 410 lb-ft of torque.
Plus, since it's paired with only a 6-speed transmission, estimated fuel economy also lessens slightly. Though you'll receive the same 15 MPG in the city, the highway MPG drops to 21, which especially adds up if you're on the highway frequently.
Ram 1500 Classic vs Chevy Silverado – Size & Roominess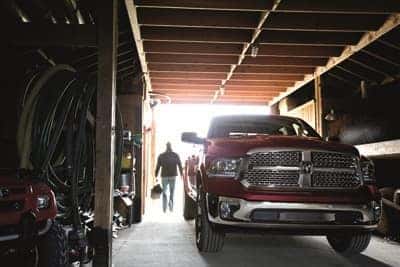 Size matters when it comes to pickup trucks. Luckily enough, both the 1500 Classic and Silverado offer a robust appearance that tops the line. However, in certain areas there are variances and one might leave you wanting a little more.
The Ram 1500 gives passengers a generous 63 cubic feet of passenger volume for up to six inside. Those in the front will have a hip room of 62.9 inches, which is great for stretching out and not feeling cramped. Additionally, the Ram model makes available a RamBox® Cargo Management System in the truck bed to free up even more space in the cabin.
And though this truck is large in stature, you'll have no problem maneuvering it. With a tight turning radius of 19.7 feet, you can easily take on narrow city streets.
The Chevy Silverado also can seat up to six in some models, though passengers might be a little cramped especially when you consider the 60.9 inches of hip room in the front. The Chevy also includes no cargo system like the 1500 Classic does. Additionally, turning might be a little more difficult with a broader turning radius of 22.3 feet.
Ram 1500 Classic vs Chevy Silverado – Verdict
At our car dealership, we think drivers in the Brockton, Randolph, and Stoughton area are going to love the 2019 Ram 1500 Classic. With more power, better efficiency, and more versatility, it's a great choice for all truck lovers. See for yourself when you schedule a test drive today!
*EPA estimated mpg with 5.7L engine and 8-speed automatic transmission, 4×2. Actual mileage may vary.