Tire Service near Me

Your car is a very complicated machine, relying on hundreds of parts working in concert to help you get around Brockton, Randolph and Stoughton. Without quality tires on your car, for example, you won't have the optimal vehicle performance that you deserve, and your excursions around town may not be quite as safe as you'd like.
The more you drive, the more wear and tear will accumulate on your tires. If you're not diligent about scheduling services, you may find yourself facing excessive vibration, a flat or even a blowout.
Any of these issues can cost you big money, so it's important that you make sure you're getting expert help maintaining your tires. Discover why your best solution for scheduling tire service near me is visiting Chrysler Jeep Dodge Ram 24, and learn a little about our dealership.
About Our Tire Service Department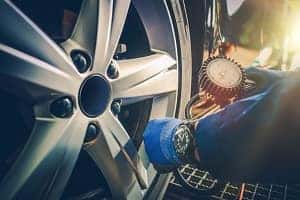 When you're looking for a dealership to help you maintain your vehicle, your priority should be finding a dealer with years of experience. We have been helping car owners for over forty years, and our team is ready to assist you however we can.
Our team takes pride in helping our customers with whatever way they need, whether it's servicing their current vehicle or helping them choose their next new or pre-owned automobile. When you visit us, we will treat you like family so that you have the most rewarding experience possible.
If you're not satisfied, we're not satisfied, and we strive each and every day to make sure that we can meet our customers' tire service needs as fully as possible. Come and let one of our service representatives talk you about our maintenance options and find out why we're your top resource for tire repair services nearby.
Types of Tire Services
Making sure that your car always functions the way that you need is a matter of scheduling the right regular maintenance tasks, and this includes tire services. There are a wide range of services that you may need to schedule for your tire, and we are here to assist you with every type of tire maintenance that you may need.
For instance, if you're overdue for a tire rotation, you can visit our service department for an appointment. We can also help you implement a tire rotation schedule so that you can make sure that your tires are wearing evenly. Eventually, you'll need a new set of tires, and we are ready to help. We offer tires from some of the top brands in the world, and one of our staff members would be glad to help you pick a high-quality new set for your vehicle. From rotation to full new sets of tires, whatever type of tire service you need, we are ready to assist you.
Tire Service Near Me at Chrysler Jeep Dodge Ram 24
If you're looking for nearby tire service and repair, look no further than the service and parts department at Chrysler Jeep Dodge Ram 24. We have a decades-long history of helping our customers from Stoughton, Brockton and Randolph with all their service needs, and we are ready work on your vehicle as well. Schedule a service appointment today and let us keep your car running like new.