Wheel Alignment Services Brockton, MA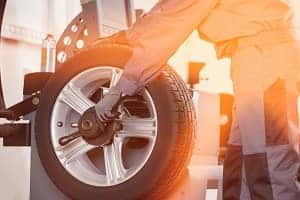 If you want to keep your car on the road for hundreds of thousands of miles, it's important that you keep up with your vehicle's regular maintenance needs, including wheel alignments. Fortunately, visiting the service department at Chrysler Jeep Dodge Ram 24 is all you need to do to find quality wheel alignment services near the Brockton, Randolph and Stoughton, MA, areas.
What Is a Wheel Alignment?
A wheel alignment is a maintenance task usually completed every two to three years, often when you have new tires installed. This task allows for optimal driving ability and will increase the overall lifespan of your vehicle's tires.
Poor alignment of your wheels causes uneven wear on your tires, ultimately wearing them down more quickly and taking thousands of miles off your tire's lifespan. If your tires are unable to function optimally, other performance features for your vehicle—like gas mileage, the suspension, and steering—will suffer.
How to Tell If Alignment Is Off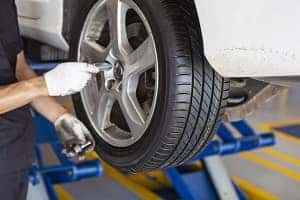 There are several signs your wheel alignment is off that you should be on the lookout for while driving:
Tires wearing quickly
Squealing tires
Driving straight with a crooked steering wheel
Vehicle pulling from side to side
Vibrating steering wheel
If you notice any of the above signs, your vehicle may be out of alignment and should be checked at a professional service department.
Tires Wearing Quickly
You can check to see if your tires are wearing more quickly than normal by looking to see if they have the same or similar wear patterns on the tread. Front and rear tires should wear evenly, and if there are no differences between them, your vehicle is likely aligned. Doing a visual check yourself is the most convenient, but to catch premature signs of your wheels being misaligned, have a certified service technician check them for you.
Squealing Tires
Squealing or squeaking tires are also a sign of misalignment due to your tires wearing down more quickly. This is due to the tread wearing unevenly or having uneven tread depth, which reduces traction when driving. Having your wheels aligned regularly will reduce the likelihood of your tires squeaking and increase the chances of even tread wear.
Visit Us Today for Wheel Alignment Services
If you're looking for wheel alignment services near Brockton, Randolph, and Stoughton, look no further than Chrysler Jeep Dodge Ram 24. We're your most reliable resource for automotive maintenance, and our skilled technicians would be glad to help you maintain your vehicle, so it always runs the way that you need. Schedule a wheel alignment today or visit us in person, so you can learn more about our services.